One of the important decisions you have to make when growing tomatoes is how you want to support them. There's
several options
but most have significant downsides:
Staking - have to continue adjusting the entire growing season
Trellis - hard to set up and need a lot of space to do properly
Store bought cages - flimsy and expensive (sometimes up to $20 a piece)
With all of this in mind, I decided to make my own heavy duty cages. They didn't take very long to make, are much studier than store bought ones, and in subsequent years there's no labor involved in using them. Best of all, I made 20 heavy duty tomato cages for only $80, including the bolt cutters!
Here's how you can make the tomato cages yourself.
Tomato Cage Equipment
- 10 Gauge Concrete Reinforcing Wire, sold in rolls or sheets at Lowes or Home Depot
Tomato Cage Tools
- Bolt Cutters, can be had for about $20 at Lowes or Home Depot
- Thick Work Gloves, those metal edges are sharp!
Instructions for Building Heavy Duty Tomato Cages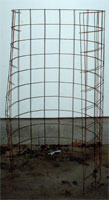 1
Cut out a 5'-6' length of the wire mesh. Be sure to cut it flush along the outside of the next grid in the mesh so the prongs are attached to the sheet you're working on, they will be used to secure the tomato cage in its final, round state.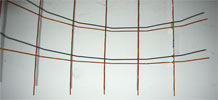 2
Cut the band off the bottom edge of the cage. Cut it as close to the band as possible, leaving the prongs attached to the sheet you're working on. The prongs will be used to secure the tomato cage in the ground.
3
Bend the side prongs to the outside of the curve at a 90 degree angle.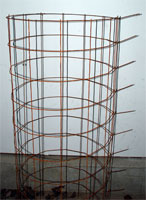 4
Note: If you are caging your tomatoes later in the season and they're already large (as I had to do for some of mine) it can be easier to jump to step 6 and work the tomato branches into the open cage before closing it as described in steps 4 and 5. If you have two people helping, one can hold the branches clear of the cage while the other closes and secures it. If your plants are currently small, then congratulations, your job will be much easier.
Slide the pronged end of the cage behind the non-pronged side. Make sure all the prongs are under the edge of the non-pronged side. The tomato cage should stay loosely closed at this point.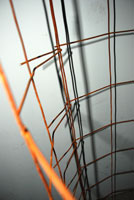 5
Bend the prongs down over the edge of the non-pronged side, creating a loop that should securely hold the cage closed.
6
Place the tomato cage over / around your tomato plant with the bottom prongs on the bottom. Be careful that all leaves and branches are clear of the cage before you push it firmly into the ground.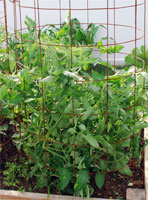 7
As the plant grows you may have to occasionally move some branches back inside the cage. Also be sure to
prune your plant
for optimum results.
What other tomato growing tips do you have?